Private Dance Lessons Houston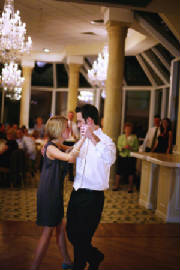 Exclusively private dance lessons are:
Scheduled at your convenience.

Tailored to your needs, pace, personality.

Conducted on a private dance floor.

Optimized for muscle memory because the music played is your music (wedding dance song) or music that is suited for dance styles being learned.
Private Dance Classes Houston
Introductory Special:
$340 five private 45-minute dance lessons for one couple
Standard Rates (after introductory special):
$80 one lesson only or at a time (pay as you go)

$75 per lesson: 2 to 5 private dance lessons
$70 per lesson: 6 to 10 private dance lessons
Information & Pricing for Groups
Private Dance Lessons in Houston
Payment
Cash, check, or PayPal.
Private Dance Classes in Houston
Length, Duration, Scheduling of Dance Lessons
All dance lessons (including self-organized group dance classes) are 45 minutes each, scheduled by appointment, and exclusively private. Please arrive on time and not sooner to allow students scheduled just before your lesson their privacy. Thank you so very much for this courtesy!

Private Dance Lessons Houston Tx
Dress Code
Clothing: Wear comfortable casual clothes in case you break a sweat and to avoid soiling your dress or work clothes. On cold days, wear removable sweaters, jackets, and pullovers since dancing will cause an increase in body temperature.

Shoes: Dance shoes are ideal. Shoes should be closed-toe to avoid injuring toes and toe nails, and shoes should fit snugly but comfortably and not slip off easily.

Private Dance Classes Houston Tx
Children
The studio does not have a nursery, designated play area, or personnel to watch and tend to children while parents are taking dance lessons. Please make offsite arrangements for child care while taking dance lessons at the studio. Thank you so very much for this courtesy!

Dance Lessons Houston Private
Refunds/Expiration
Refunds will be issued on a case-by-case basis at the discretion of the owner for good, just, and reasonable cause. Refunds will be calculated based on the number of lessons taken, not originally purchased. All purchased dance lessons will be considered good and redeemable for one year from the date of purchase at which time they will expire the day after one year from date of purchase.

Dance Classes Houston Private
Cancellation Policy
A 24-hour notice of cancellation is required, otherwise your dance lesson will be forfeited. The sooner notice of cancellation is given, the better. Thank you so very much for this courtesy!
Houston Private Dance Lessons