Find Your Best Ballroom Dance Studio in Houston
How to find the best ballroom dance studios in Houston, Texas, including ballroom dance studios specializing in wedding dances, and tips for finding the best ballroom dance studios in Houston that suit your needs for competition and/or socials. Houston has hundreds of ballroom dance studios, classes, schools, and instructors in the city proper, as well as in surrounding areas! To simplify your quest, here are some questions to keep in mind while researching ballroom dance studios in Houston: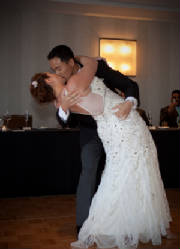 Privates or groups? Private ballroom dance lessons will cost more, however individual instruction will accelerate learning. Group dance classes in Houston will cost less and provide social interaction with other students, but they will lose the benefit of individual attention from your dancing instructor. Some ballroom dance studios will offer both private lessons and group dance classes and might present the group classes at no charge asking you to become a studio member and sign a contract. Trending now are dance studio package deals from Groupon and the like. Some ballroom dance studios now offer their own package deals of combinations of privates and group dance classes in a more à-la-carte fashion. If you prefer social interaction these options should be considered. If privacy is a concern then a private ballroom dance studio in Houston may be your best choice.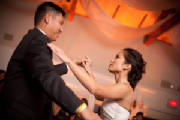 Private or shared dance floor? If you are looking for exclusively private ballroom dance lessons; that is, a ballroom dance studio where there are no other teachers and/or students on the dance floor during your lessons, then you will want to consider private ballroom dance studios in Houston. Private ballroom dance studios offer the added benefit of eliminating all external distractions during a private ballroom dance lesson. Otherwise, be mindful of studio conditions when "private" lessons are being advertised. "Private" does not necessarily mean "exclusive." Some ballroom dance studios have more than one dance floor or dance room where exclusively private ballroom dance lessons can be conducted. Be sure to inquire.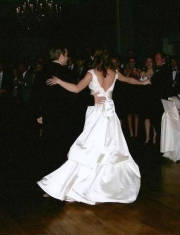 Social or competitive dancing? Focusing on the purpose of your dancing will help you to determine what type of dance instructor you will need. If you want to learn how to dance for weddings (including your own!), galas, parties, dance cruises, night clubs, and social dancing in general, then a dance instructor versed in social dancing is the most likely choice. If you want to compete in dancesport competitions, spend some time talking to and perhaps taking a lesson or two with a few dance instructors who are experienced and employed as competitive ballroom dancers and coaches. Chemistry and trust are crucial!
Houston Ballroom Dance Studios Pricing
The fair market value of a private ballroom dance lesson in Houston is about $75 and can cost upwards of $100. A recent survey of local Houston dance studios yielded a sampling of owners asking $120, $98, $96, $85, $75, $70, $65, and $55. Independent dance teachers who travel to a client's home may charge for time traveled to and from the home and the cost can be increased anywhere from $25 to even double the rate of the lesson itself, and lessons may or may not be one full hour. The trend nowadays is offering lessons in increments of 45 and even 30 minutes. Find out how long each lesson is for the specific rate being charged and if there is a different price for either less or more time. The fair market value for adult group dance classes is about $12 per person (pre-paid), which is a good deal. For the price, group dance classes are a great way to practice with many different partners, especially if you don't have a partner with whom you can take ballroom dance lessons in Houston.
Introductory specials? Most ballroom dance studios in Houston will offer some sort of introductory special, which may or may not be year-round. If you're not sure you want to enroll, then ask how long the special lasts so you won't feel pressured. You will also want to find out what the price for each dance lesson is after the special.
Volume discounts? Some ballroom dance studios will discount the cost per private dance lesson if you purchase in volume, say five or more dance lessons. Group dance classes in Houston can cost from $10 to $20 per lesson. Oftentimes Houston dance schools will offer pre-paid packages discounting the price per class for monthly—even quarterly—adult dance classes. Most dance studios that offer pre-paid packages of four group dance classes for $40 or $50 per month deal in volume. Be sure to find out all of this information before you enroll.
The Dance Whisperer's dance studio offers ballroom Latin and smooth, salsa, east and west coast swing, Argentine tango, and country western dancing. Enjoy the luxury of learning how to dance on an exclusively private dance floor in a discrete dance studio convenient to the Galleria, Highland Village, Bellaire, River Oaks, Upper Kirby, Greenway Plaza, and West University areas. Small, self-organized groups can also be arranged by appointment.
Link > Contact The Dance Whisperer
The Dance Whisperer (832) 429-4477
4710 Merwin Street • Houston Texas 77027
The Dance Whisperer dance studio is located in southwest Houston inside West Loop 610 South at Highway 59 South near the Galleria, Highland Village, Upper Kirby, River Oaks, and West University areas, and is a convenient straight shot from Sugar Land on 59 South.
All dance lessons are scheduled by appointment.
Copyright © 2008-2020 The Dance Whisperer. All rights reserved.
Photos published with permission of couples formerly and presently enrolled. © 2020
Less than a 24-hour cancellation notice before a scheduled dance lesson will result in a forfeit of that dance lesson and full charges will apply.