Dance Instructors Houston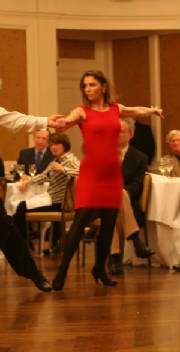 Rebecca Nestvold
Hello, I'm Rebecca. I'll be your dance instructor. I began formal dance instruction as a young child and have studied several genres of dance with some of Houston's finest dancing legends. After years of training and teaching as a social ballroom dance instructor, I began teaching independently as The Dance Whisperer in Houston in 2008.
My approach to dance instruction is to offer you tried and true time-tested techniques, simple but effective dance tips, a dash of humor, and most of all fun! Motivation is the key to successful dance instruction. To become acquainted with my dance studio, teaching style, and to determine if I am the right dance instructor for you, please submit your contact information via the link below:
Houston Dance Instructors
Dance Instructors in Houston
Look for The Dance Whisperer on Instagram, Twitter, YouTube, LinkedIn, Facebook, Google+, and Pinterest.
↑ Rebecca dancing with a student at a showcase event in River Oaks. ↑
Ballroom Dance Instructors Houston
Houston Ballroom Dance Instructors